Wet shaving artisan update 2022
It's here! The Agent Shave wet shaving artisan update of 2022! Last year was a write off hey? So we have gone undercover with your favourite wet shaving artisan brands to ask the questions you want to hear this year!
How have you and your shaving business coped with Covid and lockdowns?
Zingari Man: I initially took some time off from working so much which was nice. At the time I was working at the hospital and Zingari so I did not get much time off. But after a week of binging movies and reading I decided it was a great time to get my hands into some testing. I started researching perfuming and some new products for the Zingari shave line up. I also became more active on social media. I did lives frequently and started a podcast that I co hosted. It is called The Razor Burn Podcast if you have never listened.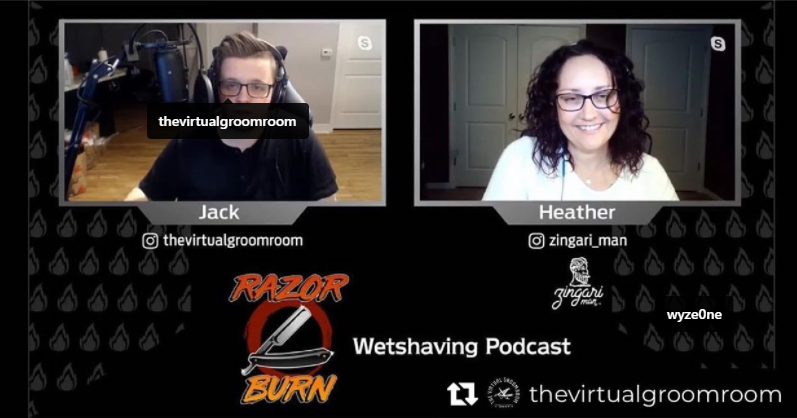 In my "day job" I worked in our area's largest hospital. I am a laboratory technician and worked in chemistry. There were lots of unknowns in the hospital and it became very stressful. Looking back I had a lot more anxiety than I realized and being so isolated from friends and family for so long did take a toll. I started face timing and video calling my children and those I usually spent a lot of time with just to be able to have some normalcy. We did an episode on The Razor Burn with Scott from Declaration Grooming talking about mental health and the impact the isolation had.
RazoRock: Coping with Covid has been tough but we continue to persevere. On the business side, delays, shipping cost increases and base ingredient shortages have been difficult to deal with, however, we are trying our best and we have refused to increase prices to try to keep wet shaving affordable for our customers.
On the personal side, we miss traveling to Europe and connecting with business and retail customers, however, we are hopeful that we will be coming to Europe sometime soon in 2022. Also, we are so lucky to have supportive families and we have been taking this time to spend even more time with family and supporting each other.
Mastro Miche: I have and am facing this historical period of the pandemic in the most serene way possible. I am trying to reason and draw lessons from this situation, just as I faced the tumour that hit me 5 years ago and that I am defeating, thanks to the ability and skills of the doctors who are treating me. I personally believe in science and I know that this virus that is changing our lives will be defeated ...
Ariana & Evans: Our business actually grew tremendously during this time. I believe online businesses had little impact compared to brick & mortar stores. Other than supply chain issues, we really have seen no negative impact on the business.
Peter Charkarlis and his daughter Thalia Ariana | A&E Employee Katherine with a commercial cooker
Mental health? Although this is a challenging time, as a family, we work together, therefore very little changed. We all stayed healthy up until this past month when we all caught COVID while away in St Martin (island in Caribbean). Our 9 day trip turned into almost a month away. Thankfully, we have amazing employees, who were able to continue without us.
Wickham Soap Co: Hello Agent's and connoisseurs of fine shaving. What an agitative year or two it's been for us all. Pandemic, Lockdowns, Postal disruptions and inflation.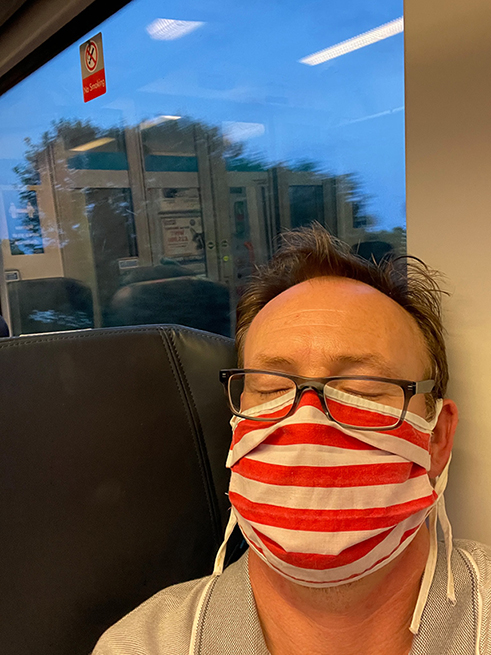 Behind the scenes at Wickhams, things have been a little slow while I recover from an accident. As some people are aware at the beginning of 2020 I was involved in a hit and run accident that left me in hospital with bleeding on the brain in four areas. Suffering from disjointed memory, memory loss and the ability to remain focused on the simplest of tasks forced me to hang up my soap making gloves while I focused on recovery. My closest friends know I kept one glove on as I didn't want to let people down by temporally closing Wickhams. Recovery has been slow, very frustrating and at times painful but I feel I've made good progress. 3 months ago I put back on the other glove figuratively speaking by working on Wickhams again and producing fresh stock.
The recovery period was a perfect time for reflection and planning for the future. As I think Muhammad Ali once said.
"Looking at life from a different perspective makes you realize that it's not the deer that is crossing the road, rather it's the road that is crossing the forest."
Looking at things from a different perspective will be a good thing for Wickhams and myself moving forward. A time to be super creative, build on excellence and above all remain positive in changing times.
Phoenix Artisan Accoutrements: Covid has actually been very good to us, oddly enough. With lockdowns came a huge boost in sales from more folks turning to online vendors. (You'd almost think we were selling toilet paper). The supply chain issues have slowed some things down but for the most part, we were well prepared.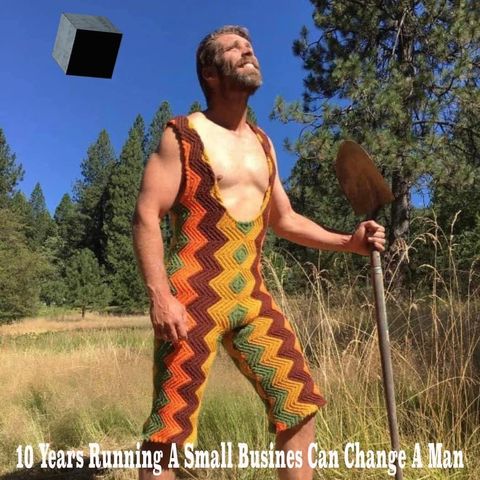 We did have a couple staff members out with covid during January but thankfully safety procedures we have set up at the lab protected the rest of us. They didn't protect us from the extra work however and it's been a nonstop, sleeves rolled way up month!
Leaf Shave: Covid has been challenging for small businesses like Leaf for a number of reasons, but one of the things we've been able to keep consistency on is our team. Because we own our distribution and warehousing, most of our team had to be in-office anyways, and so we kept a tight culture of collaboration and 'company family' throughout the past couple of years while figuring out how to operate and be with each other while staying safe. One of the things I miss the most is traveling, so I do look forward to getting to visit some of my favourite places around the world when things are more open and easy in the future - but for now we are in a nice groove :)
Environmental impact – will you be making any changes to your business model around packaging and thoughts on this?
Zingari Man: I would love to offer refill pucks at some point as our customer base grows. Many hobby shavers simply do not want them due to storage when they have dozens of shave soaps. We do encourage people to reuse them for samples or remove the labels and use them for other purposes. In many areas they can also be recycled.
RazoRock: We are trying to increase our use of local shops and distributors to help minimize shipping costs, shipping times and environmental impacts. We are hoping to increase our shop local push as that will have an impact on the environment and also helps local economies.
Also, our shaving soap jars are being transitioned to a more environmentally friendly plastic called "I'M GREEN" which uses the world's first bio-based plastic produced on an industrial scale, a polyethylene made from sugarcane.(https://www.braskem.com.br/imgreen/about-im-green)
Mastro Miche: I took advantage of the time to think about new shaving products, trying to lend a hand also from an ecological point of view, but unfortunately it is not easy. packaging manufacturers are not yet ready to supply reliable and tested "green" products and the costs are high.
There is still a long way to go, in my humble opinion. I also believe that the environmental impact of traditional wet shaving is much lower than those who use shaving foam and disposable razors.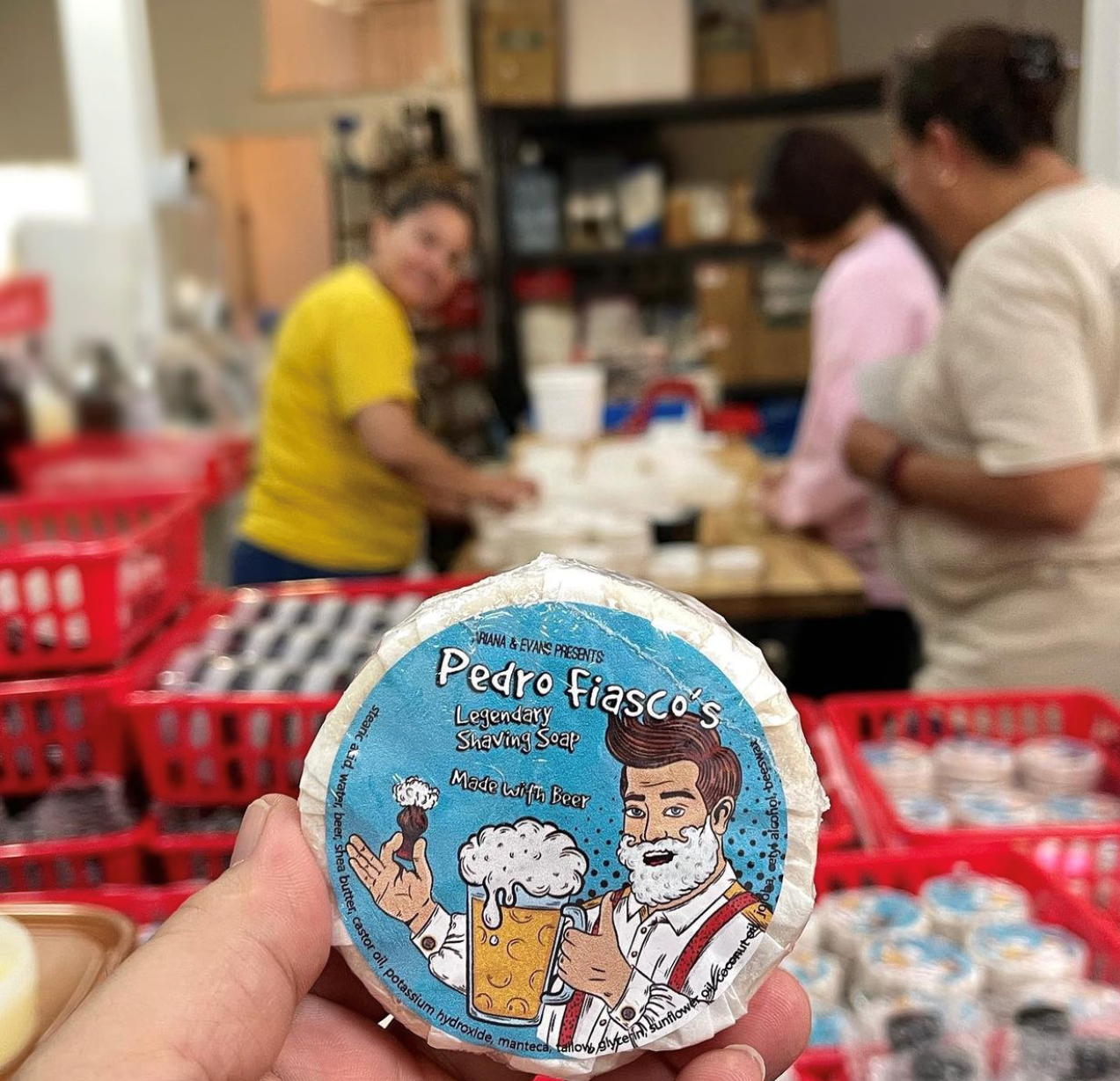 Ariana & Evans: Very little will change with exception of our introduction to our value line products (Pedro Fiasco). The soap pucks are shrink wrapped, therefore no need for plastic jars.
Phoenix Artisan Accoutrements: As for eco friendly packaging, we do what we can. Supply chain issues have made exploring that difficult
We do offer glass reusable aftershave bottles of our own design. And we were working on soap tubs that were made from recyclable plastic…then covid hit. Glass was the most obvious option but it has a few strikes against it, weight, and it breaks. The weight would add much more to the final retail price for consumers and the way shipping prices keep going up I feel we would lose a lot of folks in the wash. So as a small artisan we do what we can! Especially in operating our facility.
Our shrink wrap plastic that we wrap body soaps and shampoo pucks in is biodegradable.
Leaf Shave: We are always conscious about how heavily or lightly we're treading - this extends from product to packaging.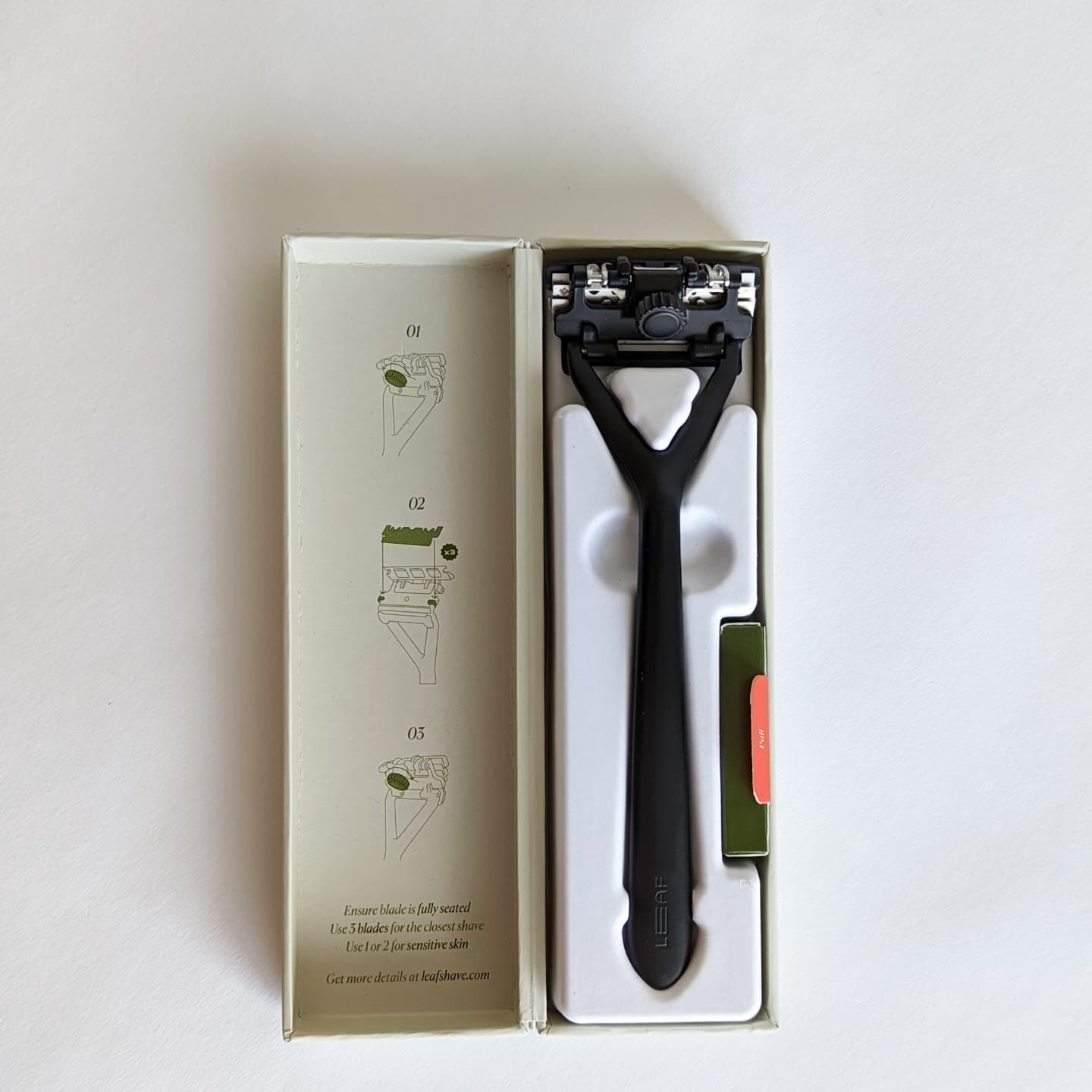 I don't think we have any big packaging changes happening this year, although we've recently been able to upgrade the inserts that our razors sit on from a paperboard folded insert, to a paper-pulp moulded insert. The result is a much more structurally sound system for protecting the razors in transit, and it retains it's full-paper design, curb-side recyclable.
Why being an artisan that produces a vegan shaving range is important to you?
Zingari Man: I actually started with vegan shave soaps. At the time it was not really important to me its just what I did. When I rebranded into Zingari Man from my first business, Smitten Soapery, I reformulated and improved that base. I feel like I sort of busted into the scene by putting my face in front of everyone frequently on Instagram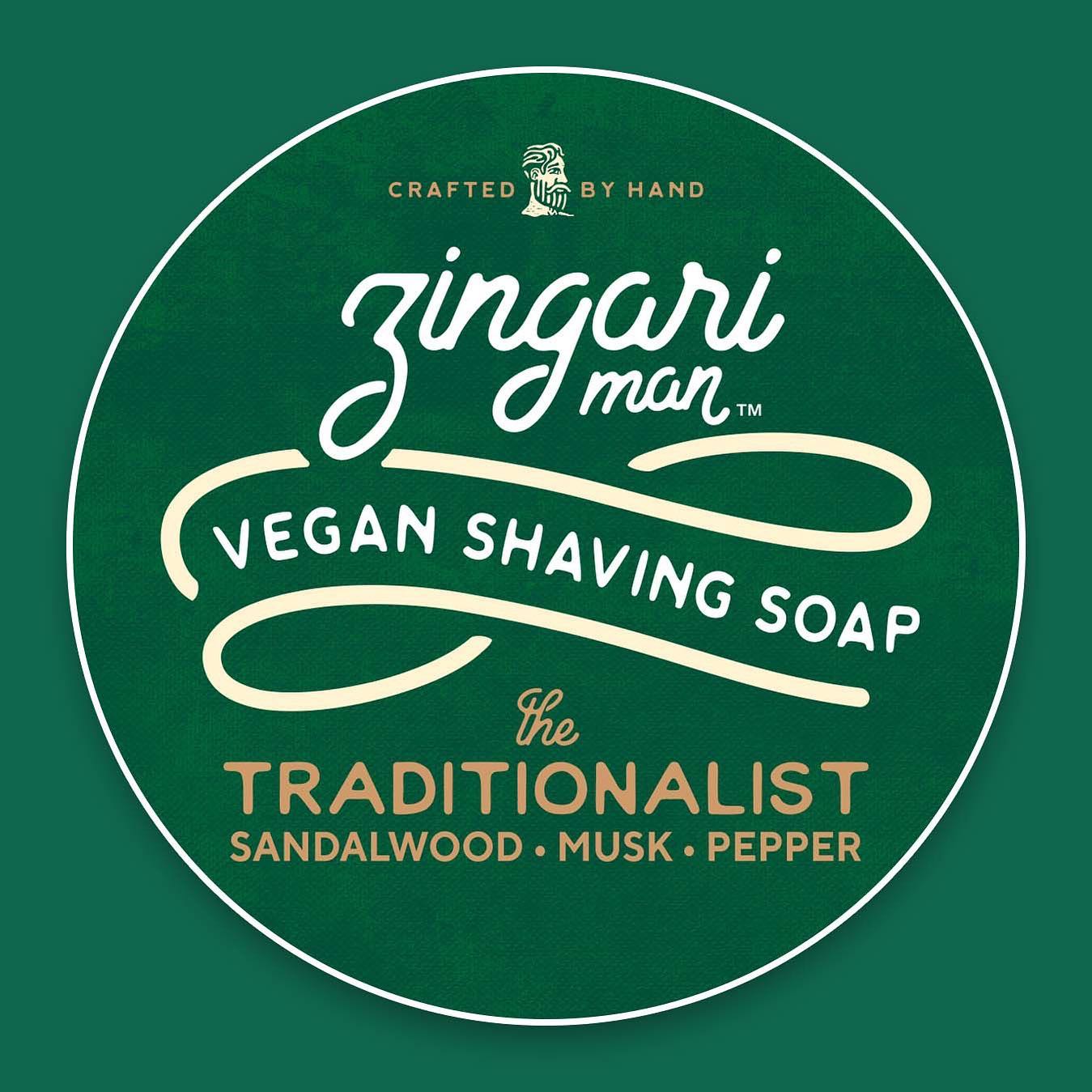 What then happened was I got a lot of "when are you doing a tallow?" So, I put in the time to test a tallow base and that is what is now known as Sego. Then I got requests for another vegan! haha It is a never ending cycle of not being able to please everyone. So my solution was to offer some of my limited edition scents and collaborations in a new and updated vegan base. I really wanted to be able to have one scent on hand at all times that was vegan. So, when The Traditionalist scent was finished I decided it would be the one we would do in vegan and keep in stock all the time.
Ariana & Evans: I always look to challenge myself and create. I do this to a fault, as this is my passion. However, it's not good to have too many shaving soap bases.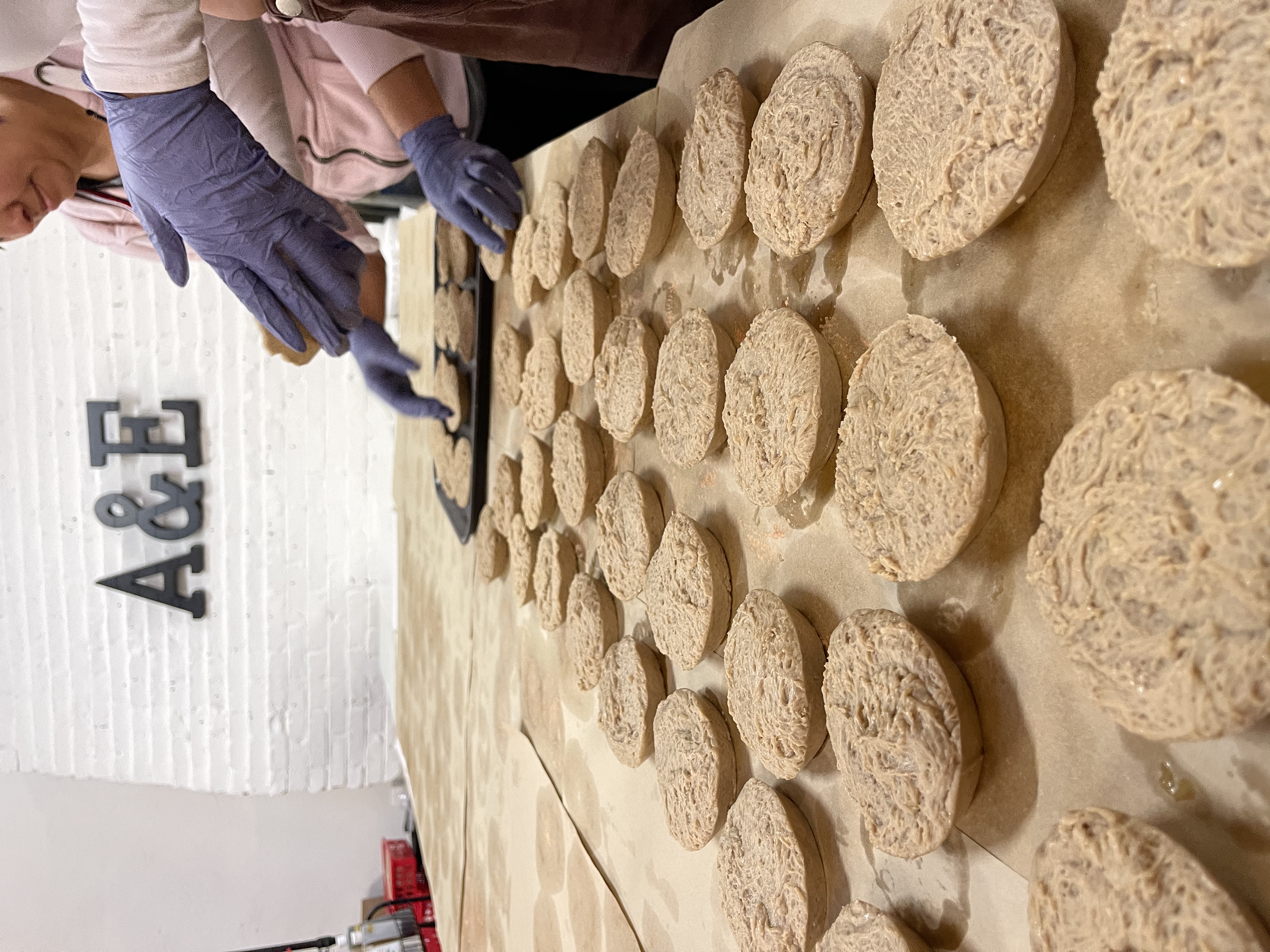 Specific to vegan, my goal was to offer a Skin Care line which is quite different than our tallow offering. I wanted the Skin Essentials line to look more upscale and I wanted this line to be vegan. The challenge was to create a base which would rival Kaizen. I also wanted this line to be scented with only essential oils, resins, tinctures and absolutes. I'm very pleased with the end result.
We are about to further enhance this offering with our new VR1 vegan base. This base will be widely released in 2022 and is comparable to K2. I believe this will be considered among the very best vegan bases money can buy.
Why is producing an artisan wet shaving range important to you?
RazoRock: It's so important to produce artisan products because they support local economies and small businesses. Also, the products are far superior and even though they should be more expensive, we use our skills to ensure that we provide the highest quality products at the best possible prices for our loyal customers.
Mastro Miche: I love my job, being a small craftsman who manages to translate his emotions, his memories into a shaving product is always a great joy and, if these shave products are also appreciated, happiness is double. I am not a serial producer, my times are always very long, but because the elaboration of my thoughts, the search for the fragrance, the label, which must give me emotions and not be simple commercial operations, is long.
Phoenix Artisan Accoutrements: Traditional wet shaving is my passion. I am a enthusiast and collector first, businessman second…even that term doesn't even sound right to my ears.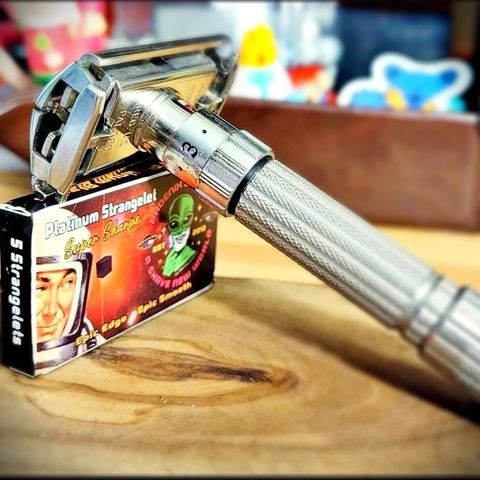 Not sure how many fans of the brand in Europe and the UK know, but we have been working hard over the years building a Phoenix Shaving Universe with different characters that come and go making appearances in ads and product labels. Along with the artwork is an ongoing SciFi adventure saga that can often be found at the bottom of select sales pages. This has expanded into actual ebooks, booklets and a paperback! At this point I have sold out over 500 autographed copies of The Fresco Mystery, which actually is set in England! Lol, The popularity of the series has been so surprising at the last 2 shave events I have attended I found myself staged for book signings!
This is quite interesting for being a soap-maker. So I believe this just reinforces all we have said about our brand since day one, we are more than just shaving!
Leaf Shave: I believe in innovation and the role that innovation plays in improving our every day lives. That's a hill I'm willing to work on, and so I find a lot of purpose in what we do at Leaf because we are with our customers nearly every day during the times when they're looking to take care of themselves and find ways to feel confident and lovely.
What is new? Coming in 2022….
Zingari Man: We have The Master that just released and a VERY exciting collaboration with a new perfumer coming in March! Both of these will be available in EU and UK at some point. As far as UK/EU go we are planning on expanding our offerings of products that are certified and will be doing the skincare and beard products! The Traditionalist and The Gent will be available in early 2022.
We are also adding solid colognes to the line up. This is really in response to the request of our international customers requesting the extra's. We are wrapping up testing for shampoo bars and will be working on bringing back a face cleanser! I became a full time soap maker in May 2021 and this is allowing me more time to build the business and bring in new things! Stay tuned it is going to be a great year.
RazoRock: One X and XX have been brought back in 2022 and we will be releasing a new CNC Stainless Steel Slant razor which will have multiple base plates. We believe this will be the best slant razor on the market and the various bases will make it so versatile that it can be used by new shavers and experienced shavers as well depending on the base plate that they choose. We are hoping to have it ready in the spring of 2022.
Mastro Miche: 2022 opens with the "Moon Light Serenade" shave set, which joins Artiglio, B-Owl, Code 24-11 and stems from the fact that I have always wondered what perfume the Moon could have. For this shaving soap I experimented with a new formula, very rich in castor oil, so as to make it almost a cream, to be spread on the face with the hand and then whipped with the brush.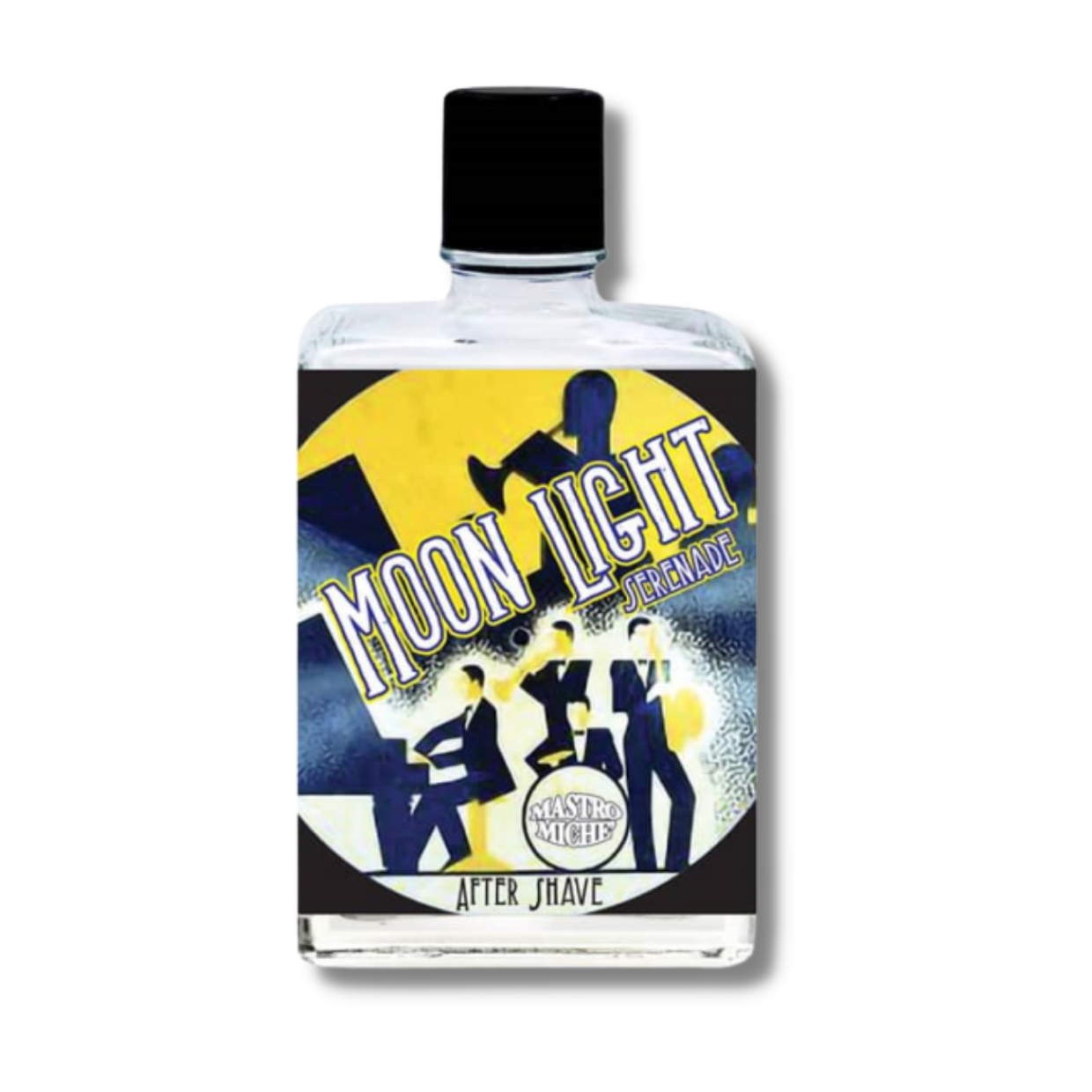 Also this year the third shaving soap will be released with the label of the third painting by Daniele Sorrenti, the artist from Zihuatanejo and Peek-A-Boo, but everything is still top secret on formula and fragrance ...!
And then I'm working on a line to dedicate to those who have to take care of the beard and not shave it, I'd like to be able to give emotions to this type of customer too. In my head there are still so many ideas, so many dreams and above all so much hope, which I would like to be able to give to everyone.
Ariana & Evans: Too numerous to mention all. I'll give it a go!
Partnership with Dovo Solingen
New Asian Pacific facility in Binmaley, Philippines to grow our footprint in this region
We will be moving our World Headquarters to a new building, which is an old Foundry building from the 1800's. This is a very large investment, but doubles our space and allows room for future growth.
We will be expanding our candle line
We just started a new company (Cobra Spit Balm). We provide tattoo aftercare with this company
We will continue growing our White Label partnerships. We currently have five. Alexandria Fragrances, Sphinx Beard Oil, Dovo Solingen and two others with non disclosures.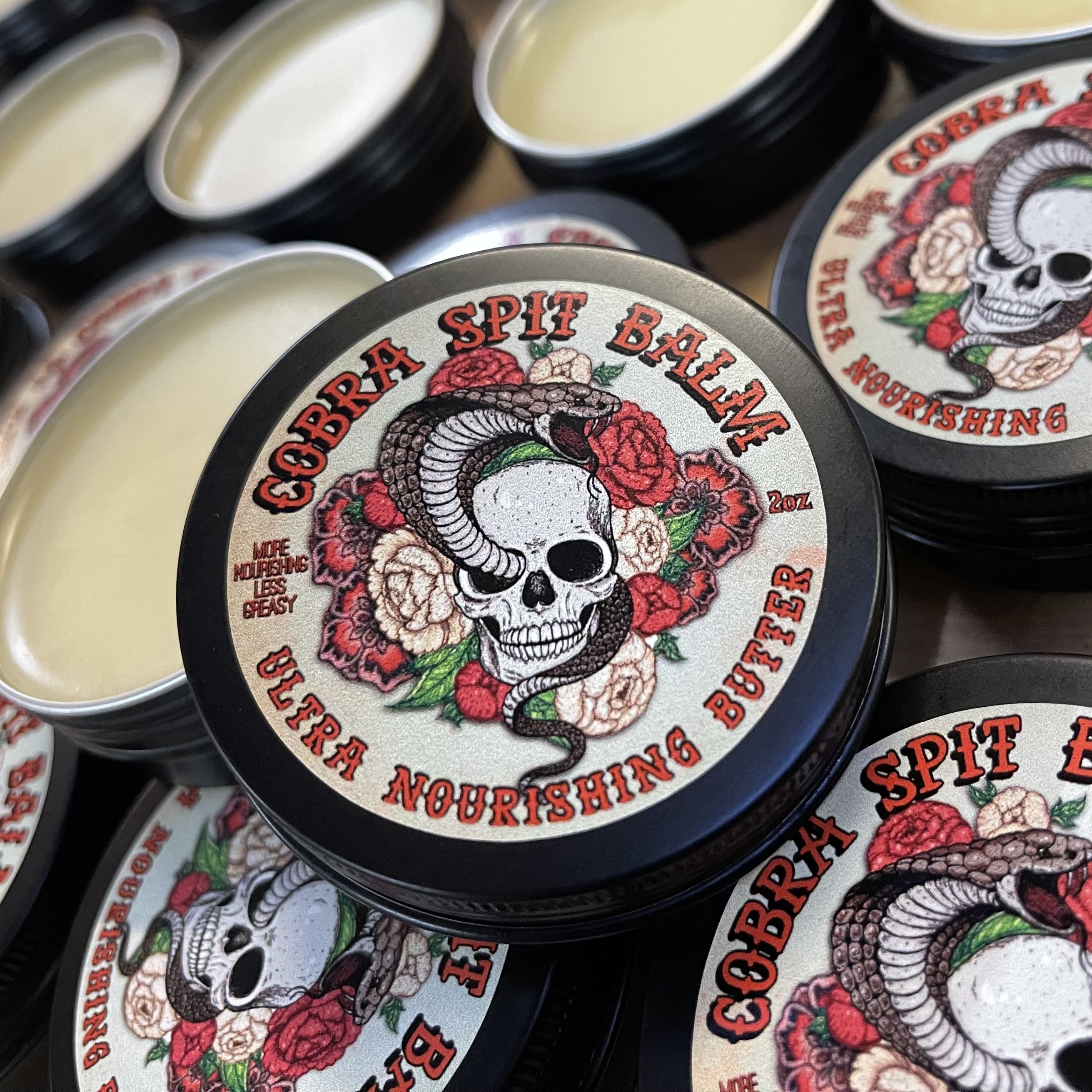 Wickham Soap Co: I have 3 new products planned for development including a new shaving soap base to run along the side of 1912. The soap base will form an all new 'heirloom range' which will see 3 new fragrances.
There was also a number of collaborations planned before the accident and to get things moving. I've picked up where I left off with Steve over at Alpha Brush and Shaving. Keep an eye out for this exciting collab release in March/April, the scent for this is gorgeous. I've received a lot of positive feedback and as the people who I'm friends with on Facebook will confirm. I'm now in a relationship with a lady who couldn't resist the scent. Like a bee to honey!
I would like thank people for their emails and nice wishes, I am sorry if I didn't reply to you as it wasn't intentional. I did receive a couple of requests for more of the Limited Edition 1912 Gothic Revival shave soap and aftershave. I thought it might be a nice gesture for Agent Shave to offer a limited run to their loyal customers first. What say thee agents?
Phoenix Artisan Accoutrements: 2022 is our tenth anniversary so we have plans on celebrating this with special releases. We are ALWAYS working on certifying products for the UK/Europe, I can't stress that enough. However, it's an expensive and arduous process that does not happen over night…and many folks don't seem to understand that, but it's ongoing. We have gone out of our way to keep our retail prices the same for our soaps in the last 3 years. The fact is, we were the first US artisan to take a stab at UK/Europe certification, and we don't plan on stopping. For a small artisan that kind of move was unheard of at the time and a big risk…but we did it and still do for our cousins across the pond.
Dreamscape Scuttles should also be available in Europe and UK real soon too! So stay tuned for those EPIC, Hot Lather "Machines"!
Leaf Shave: Ohhhh - actually 2022 is going to be an *extremely* exciting year for Leaf. We have a number of new products coming down the pipeline, from accessories to brand-new-innovations in wet shaving. So I can't wait to get those new things into the hands of you agents so that our friends in the UK and beyond can enjoy what we've been working on. I hope you all have a lovely year in 2022, and I'm so thankful that we're partners. It means a lot to me that our mutual customers can support both of our businesses when they enjoy a Leaf or Twig razor - thank you!
Wondering where Phoenix and Beau are? They have such BIG NEWS we have updated their Undercover with Phoenix & Beau Blog - do stop by for a read!
We would like to thank all our fantastic shaving artisans for taking time out of their busy days to give us a 2022 update!
Over