Undercover with Phoenix Artisan Accoutrements
Who is Phoenix Artisan Accoutrements?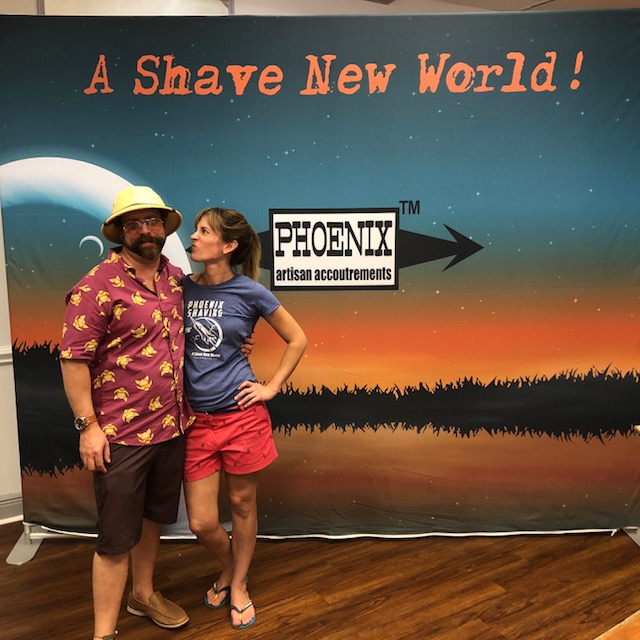 Phoenix Artisan Accoutrements are at the heart of the traditional wet shaving revolution. Our agents go undercover to find out who is behind this US cult shave brand and what can we hope to see in the future!
My name is Douglas Smythe (truthfully, it's a stage name) and I am co-owner of Phoenix Shaving along with my partner Frances Towle (being far less eccentric, that is Fran's real name). I am an artisan perfumer, soapmaker and hardware designer...as well as wearer of many other hats; Graphic Designer, Spokesperson, Interpretive dancer, Snake Charmer, Ancient Alien Theorist, etc. We are located right outside of sunny Phoenix, Arizona. My business cards states I am a Traditional Wet Shaving Software/Hardware Developer.
My main hobbies are really all traditional shaving related; collector of vintage safety razors, as well as vintage aftershaves. I am a fan of classic sci-fi and hater of cilantro, the devil's herb.
There is a few reasons behind the brand name. 1) We live in Arizona. 2) After joining forces with Fran's company we were being born again. 3) Historically it is believed the first soap was created by accident, the product of a volcano eruption where animal fats, ash and water loose on the land had a chemical reaction giving us saponification...we imagined a phoenix rising out of that very ash.
What did you eat for breakfast?
ummmm...
I should bring up something a tad more interesting that many don't know...since our inception we have been building a whole Phoenix Shaving Universe! In our labels and adverts are many a hidden message, anagrams, Easter Eggs, etc. We even had a toll free number folks could call for a rather cryptic message that need to be decoded for our first soap trilogy...yep, we do soap trilogies. Many of our sales pages could also be considered novellas in their own right. There are reoccurring characters and an ever going saga unfolding for those with eyes to see. Even the costumes I have been known to wear in different adverts and media are part of the story.
After 7 years of this, a small cult following has become hip to it but as our audience grows many newbs have no idea. We have always said we do more than just shaving...and we mean it. How our customers interface with our products is really all part of the experience.
As for what I consume to break the fast, fruit from the toffee tree.
When & why did you start traditional wet shaving?
I was first introduced to traditional wet shaving by my father in the early 80's. He would use a safety razor, that was handed down to him from my Grandad, on the weekends. I would stand up on a stool next to the sink and watch fascinated. Eventually he would come to lather me up and hand me a bladeless safety razor to "shave" with as well. I eventually inherited that very razor and still use it today...it is funny the odds and ends that follow you through life.
I actually wrote an article on this many years back for the Sharpologist, and I believe it's still there, called A Father's Day Gift. Check it out if you are interested in the full story on my humble Shaving Origins :)
Becoming a shaving soap artisan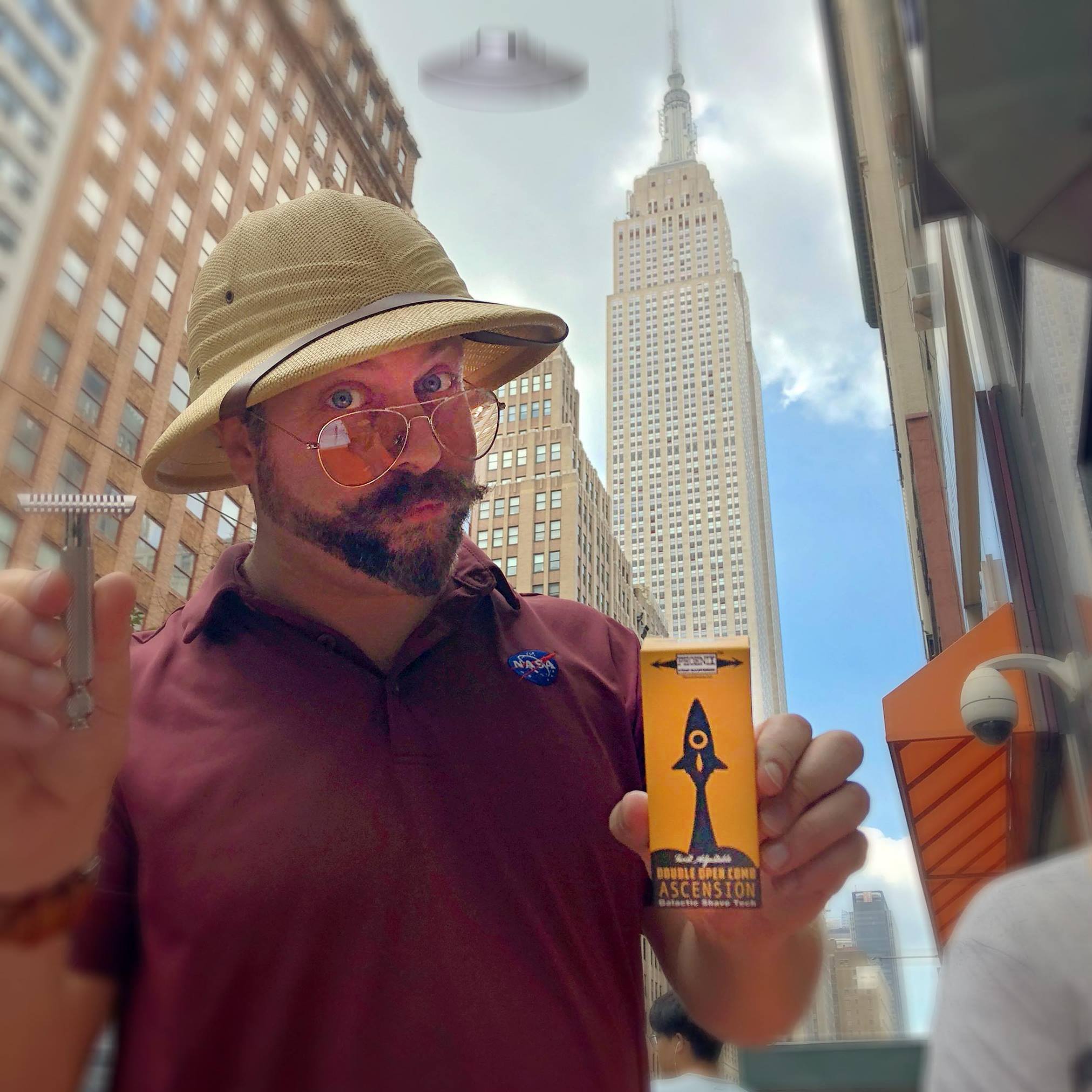 I actually took a couple one credit course on soap making back in college in the 90's but wouldn't really look into it seriously until about 2011. As for perfuming, I created my first "perfume" at age 8 or 9 with my chemistry set! My mum still has it to this day!
Phoenix Shaving actually began in Central America by pure accident. I was living in a hammock at the edge of the rainforest in Costa Rica. I had moved down there on a whim without knowing anyone or even how to speak Spanish! All my friends and family thought I was having a breakdown! I ended up staying there for 4 years and eventually learned the language too.
It really was paradise...until about 5 pm when the sand fleas came out! I was getting bit real bad and they were beyond itchy. I could not find an afterbite type product anywhere down there, so I opted to make my own. I called it Itch No Mas when all was said and done, and it was so effective I had locals knocking on my tent flap to get some. I jokingly thought, if I ever made it back to the states I would mass produce it and ship it back to Costa Rica!
Well, that day actually came when I found my self back in New England mass producing Itch No Mas. I came back to a different world, an "Etsy World" which actually made it possible. By that time, I also created another product, Stink No Mas, an emergency deodorant/insect repellent in a chapstick type tube. As the wearer sweat it would release certain essential oils into the air that would repel bugs. Stink No Mas actually became a better seller than Itch No Mas! It was a great first effort at a small business but the shipping costs to Central America were killing me soooo I decided to turn my efforts and attention on the North American Market.
By this time I had a new blog called How To Grow A Moustache. I was really trying to bolster it up writing 3 articles a day. I met many expats in my travels that lived off their blogs by selling ad space, I wanted to try my luck in the same gig and get myself back to the beach!
Turned out my focus was really too niche so the ad sales really were not there, plus I was a little impatient back then. Online business was still very new to me and I didn't really understand it too well yet...that said, I made every mistake you possibly can! But I digress...
I decided to create my own moustache wax under my girlfriends brand and advertise that on my blog... needless to say, it took off! Fran was also creating shave soap at that time and having done body soaps in the past I became curious in the process which was a little different than what I had learned.
Honestly, I really became interested in making my own shaving soap because at the time, there was no good Bay Rum shave soap. I am a real big Bay Rum fan, it has been my scent (along with sandalwood) since college. So it began....Atomic Age Bay Rum shaving soap in CK6 formula is coming to the UK soon!
I really dorked out in the development of the soap, taking lots of notes, observing the temp it performed best at (with a candy thermometer), really running it through many a test... I even had friends from around the country send me water samples to test out on the soap. It had to perform in any water condition, unlike the crappy bay rum soap i had bought online that inspired all of this madness. Lastly, I decided to use a 8 oz CD tin to pour the soap into. This larger format made for a quicker, thicker load on the brush. At this time I really wasn't thinking of selling it at all, the thought didn't really hit me...until I sent a tin to Mantic 59 and Leisureguy, Michael Ham.
They both flipped their lids and asked me when it would be up for sale. The timing was actually perfect, for at that time I was brainstorming for a way to drive more traffic to my blog. So I named it Synergy Shave Soap and gave it my website as a company name, HowToGrowAMoustache.Com (a horrible name for a shave soap company).
Overnight it became the hottest seller out there, forums I had never even heard of were all a buzz over it. This was in the early days of the wet shave revival, there were probably 5 or 6 other artisans out there, not like the hundreds we have now, it was a very different time. Truly it was the Wild West and all of us on the scene were making up the rules as we went.
That is the compressed version, but all in all, it was a happy accident that became a passion!
What is your secret to achieving the perfect lather from your shave soaps?
Hmmm, I really don't think there is a secret, heck, it pretty much lathers itself! I think the key to any shave soap is water, especially artisan shave soaps. If ever you find yourself having a problem creating a proper lather, don't be afraid to add more water, even if it seems like too much. My rule of toe is, When in doubt, add more water!
As for a favourite Phoenix Artisan Accoutrements scent, I don't even have a favourite colour. Life is far too short to limit yourself...and that very belief might explain why we create so many scent options! :)
What is new for Phoenix Artisan Accoutrements in the UK?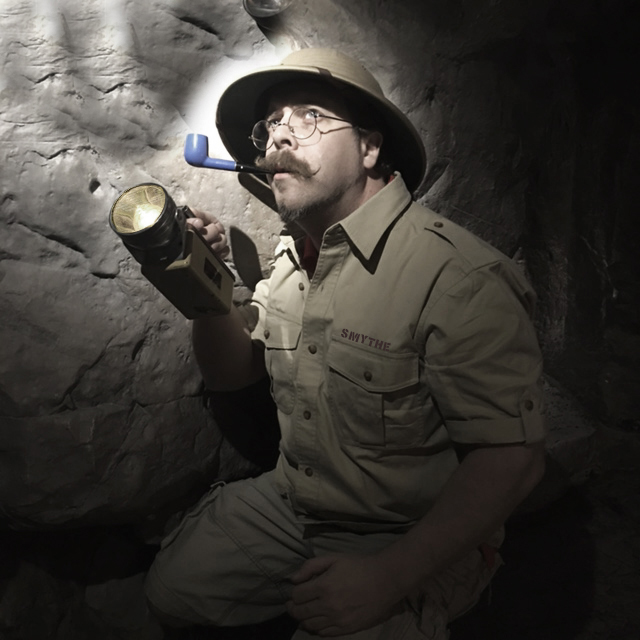 When it comes to the wet shaving community, I live it 24/7. When it comes to new products, they seem to rear their heads weekly, so just keep an eye on our social media. We constantly have something in the works, be it a new razor, scuttle or scent. When it comes to growing an awareness around wet shaving I do a yearly shave expo called The Big Shave, in the USA. This is year 5 and it will be finally held in Phoenix. The past few years it has been on the West and East Coasts. The goal was to create a giant, travelling shave show...and we did!
When not in the lab I am also co-host of a Morning Shave Show, I'd Lather Be Shaving. We cover shave history, Tips, tricks and a whole lot of silliness. Fans of Car Talk, Antique Road Show, American Pickers and Wayne's World will really enjoy this I swear. I promise, you need not be a shave nerd to find it entertaining http://idlatherbeshaving.com
I'm actually excited to announce we are in the process of selling the show and it may be taken up by a network!
We are currently working on getting Cube 2.0 Pre Shave, Atomic Age Bay Rum and Future Fiction Shaving Soap EU Certified in 2020!
EU Certification is an expensive and arduous process for American artisans, and that's probably why, I believe, we are the only one doing it currently, but we are trying our best to make it easier for our Euro friends despite this!
A huge Thank You from us all at Agent Shave goes out to Douglas & Frances from Phoenix Artisan Accoutrements for taking part in our undercover blog - we, like most of the UK shavers are excited to hear that EU certification is underway for more shaving soaps! Watch this space!
Over.