Shave den DIY inspiration ideas
Safety razors & shaving brushes everywhere?
Shaving hardware doesn't take long to clutter up your bathroom. As a result, wet shaving can become an irritating game of tracking down the right safety razor or shaving brush from the back of the sink or cabinet! It can also lead to suspicion of a growing collection from you know who......
For those who are DIY inclined, creating a wet shaving display is an attractive and convenient way for storing your wet shaving gear - even better, those who make their own display can tweak it to fit their bathroom decor, their specific shaving hardware, and the space limitations of their bathroom. There are many ways you can easily organise your shave den!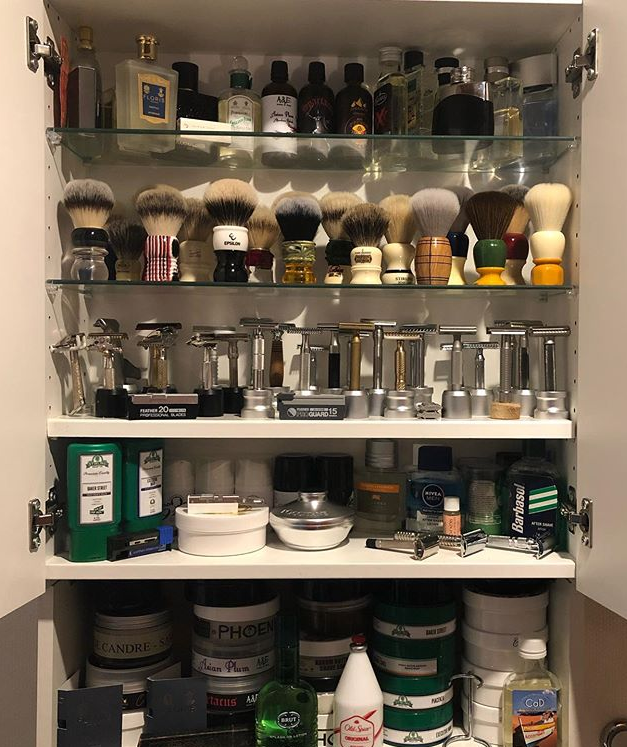 Photo credit: @paulnewsome20 Instagram
13 DIY ideas for the perfect shave den
Not sure where to start? Here are 13 ideas to get started on creating your own shaving display, for the perfect shave den:
1. Hanging stand - Similar to a toothbrush stand. It is freestanding and will take very little counter space. Double edge safety razors and shaving brushes can go in custom sized slots to hang vertically.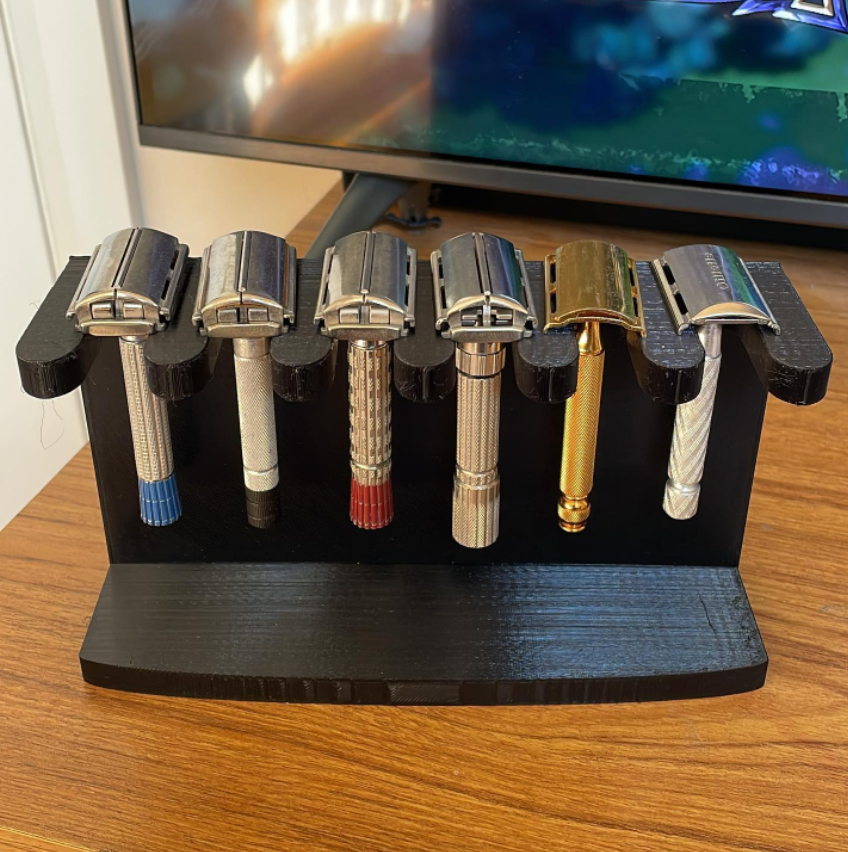 Photo Credit: Custom made razor stand by 3DShaves for Niall McLoughlin @belfastshaver on Instagram
2. Drawer organiser - For those who prefer to keep the sink area clutter free, but have some drawer space, pick up a drawer organiser to fit in your shaving soap, safety razors and shaving brushes.
Much like a utensil organiser in the kitchen, this project simply requires varying sized trays for safety razors, shaving brushes, shaving soaps and creams. Measure the dimensions of the drawer and sketch out a design first to make sure your wet shaving gear will fit in the organiser and most importantly, the organiser will fit in the drawer!
3. Wall Hanging - For those who are short on counter space and who already have a full medicine cabinet, creating a display to hang on the wall might be the best bet at organising wet shaving supplies.
A simple idea could be a shelf with shaving brushes, shaving bowls or aftershave on the top and hooks underneath for safety razors or combs.
4. Framed display- This looks like a wall decoration. Hang safety razors from hooks artfully spread out to fill the frame.
5. Cup Holder Style - This very simple design covers the basics without fuss. A rectangular design looks modern and is easy to make. A straightforward cube will do the trick, but smaller compartments can divide out razors and brushes.
6. Spice Rack - This design can go on the wall or in the cupboard. Much like a spice rack, a narrow rack with borders on all sides holds wet shaving gear without concern of them falling out. This could sit on the counter or be mounted to the wall.
7. A complete cupboard - A small cupboard with a door can securely hold any shaving kit. It will operate like a medicine cabinet but can be custom designed with shelves and hooks inside to accommodate specific tools. A glass door will allow for display, or a solid door can hide based on preference (so the other half will never know....)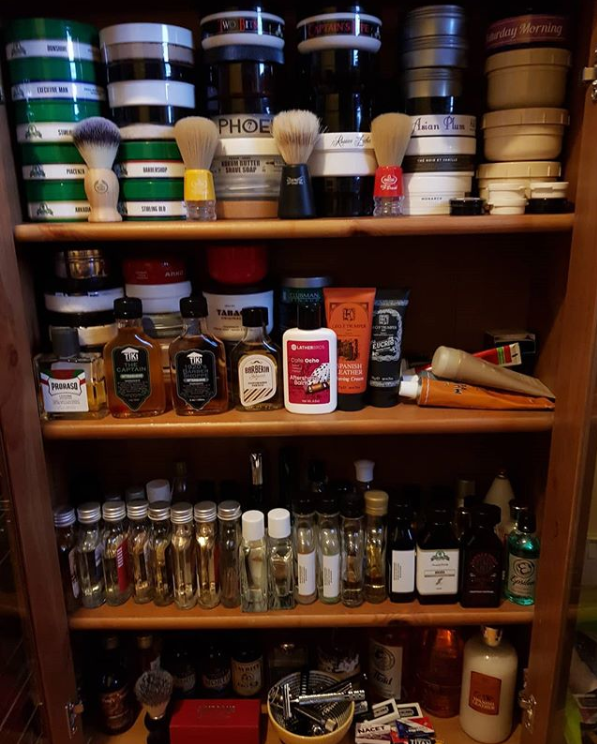 Photo credit: @mistagreenbeens Instagram
8. Hanging displays - Hanging a rack, box or basket inside a cupboard door makes for a good space saver. This will require metal hooks to hang the container but allows for flexibility with design.
9. Magnet Strip - Mount a magnet strip to a wooden hanging based on preferred design and metal can simply be stuck to the magnet.
10. Merge different ideas together - For those who have a variety double edge razors, shaving brushes and shaving supplies a combination approach could be best. Shaving soaps and brushes could sit on a shelf while safety razors hang on hooks.
11. DIY trinket box - fed up of razor blades or razor heads everywhere? Why not pick up a mini tool clip box, meant for nails & screws but instead use it to store your razor blades! Another option is to 3D print a display stand like our Agent Y did!
12. Think beyond the razor - While most shaving displays are focused on safety razors, shaving brushes, shaving creams or shaving soap, consider designing a space for towels and other accessories like shaving bowls to give a well rounded look and a display that covers all shaving needs.
13. Shaving kit box - Create a box with a hinged lid to stash shaving supplies. The wooden box can be stained with a rustic look, include etched initials, and even be divided with compartments for different supplies. Whether it sits on the counter or on a shelf a custom made box will be an artful addition to any shave den!
Most of these ideas can be implemented easily by a DIY beginner! Why not add some vintage shaving posters too? We would love to see your finished shave den – tag us in your photos with us via our Facebook, Twitter or Instagram pages!