Undercover with Phoenix and Beau
In our mission to bring you the very best in artisan wet shaving, we have gone undercover with British shaving soap makers Phoenix and Beau to find out a little more about them and what is to come this year.....
Who are Phoenix and Beau?
The Burrows family live in Hitchin, North Hertfordshire. They are Kerry (Dad), Sarah (Mum), Isla and Sanna. They are avid lovers of the outdoors; when they are not working for Phoenix and Beau you will find them walking, running, riding the trails of the Chiltern Hills. Kerry is ex-British Army and Sarah used to work in London as an architectural illustrator. What do they have for breakfast? Well it is never skipped! Porridge, toast, weetabix and fruit (and lots of coffee!) are the usual staples for this part of their day.
Kerry began traditional wet shaving circa 2014 and really it was an exercise in curiosity and seeking a better alternative to cartridge razors and the ubiquitous shaving foam. From that point he discovered the sheer variety and depth of options and was captured by the quality, durability and presentation of wet shaving accessories.
The artisan shaving soap journey
Artisan shaving soap making began the following year (2015) and was again the result of inquisitiveness. Kerry wanted to understand what he was putting on to and in to his skin and so began a study in to ingredients and soap formulas. He loved science and chemistry at school and that married well with his love of cooking (akin to making soap) and art.
Kerry and Sarah wanted an abstract name for the brand so have used the two middle names of their daughters; Sanna (Phoenix) and Isla (Beau)
Ultimately all of their efforts and energy that they spend on the company is about leaving a legacy for their children. It is fitting that their names stand front and centre in everything that they do.
Favourite shaving soap scent
We all want to know, what would be Kerrys favourite Phoenix and Beau shaving soap scent? It was a tough question for him as he loves them all! The Kickstarter soap, Britannia, has a special place. It was a deeply rich fougere profile that has been a long time in the making and it's pivotal to the growth of Phoenix and Beau.
How to achieve the perfect Phoenix and Beau lather?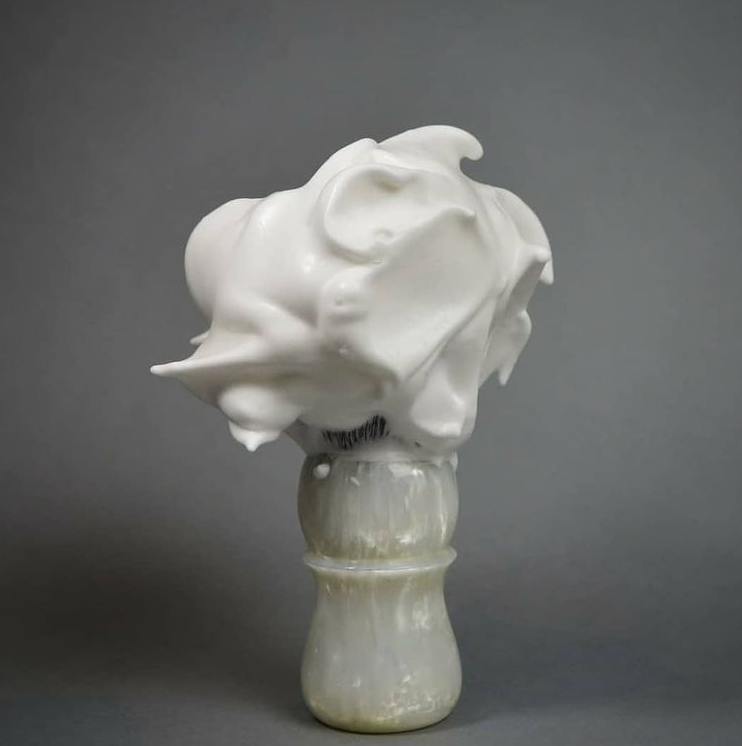 Pour a small amount of warm water to the top of any Phoenix and Beau shaving soap that you are using. This is called blooming, Kerry usually lets his soap bloom whilst having a shower. Then decant that (bloom) water in to your palm and rub that in to your face; it's after that point that you would use a well soaked shaving brush to build a storm of a lather. Phoenix and Beau shaving soap likes water, don't be shy, get it in there and watch it explode!
2021 artisan shaving update
Phoenix and Beau have reviewed the current product ranges and have decided to discontinue all the products that fall into the Iceni and Trafalgar range, and the Utility Oils from 31st March 2021. Adding to our standard stock range will be the popular Achilles Last Stand and Star Noir (previously Limted Editions)
This year Phoenix and Beau are hoping to release the long-awaited vegan range soon, along with a limited-edition shaving soap, lotion and splash called And The Gods Made Love. Later on, will be Vireo's Eye, Helden and Atmosphere limited-editions. A new tallow-based formula soap range called Sovereign will also join our standard stock lines.
Inevitably, lockdowns have also stood in the way of making progress, but now the children are back at school we should be able to make more headway!
Brexit has had a considerable impact with the changes it has brought to bear upon the UK / EU cosmetics industry. Firstly, it is worth reiterating that all Phoenix and Beau products have always had the required EU compliant safety assessments in place and have been registered to the CPNP portal since their respective creation. Brexit regulation has meant having to re-register all products to the new UK SCPN portal and have safety assessments, product information files re-assessed by a Responsible Person within the EU.
Phoenix and Beau have been working at the above process for months now, at both considerable cost in terms of time and finances, so you will see that prices have had to increase slightly.
Thank you to Kerry and Sarah for allowing us to come undercover into the world of Phoenix and Beau.
Over.